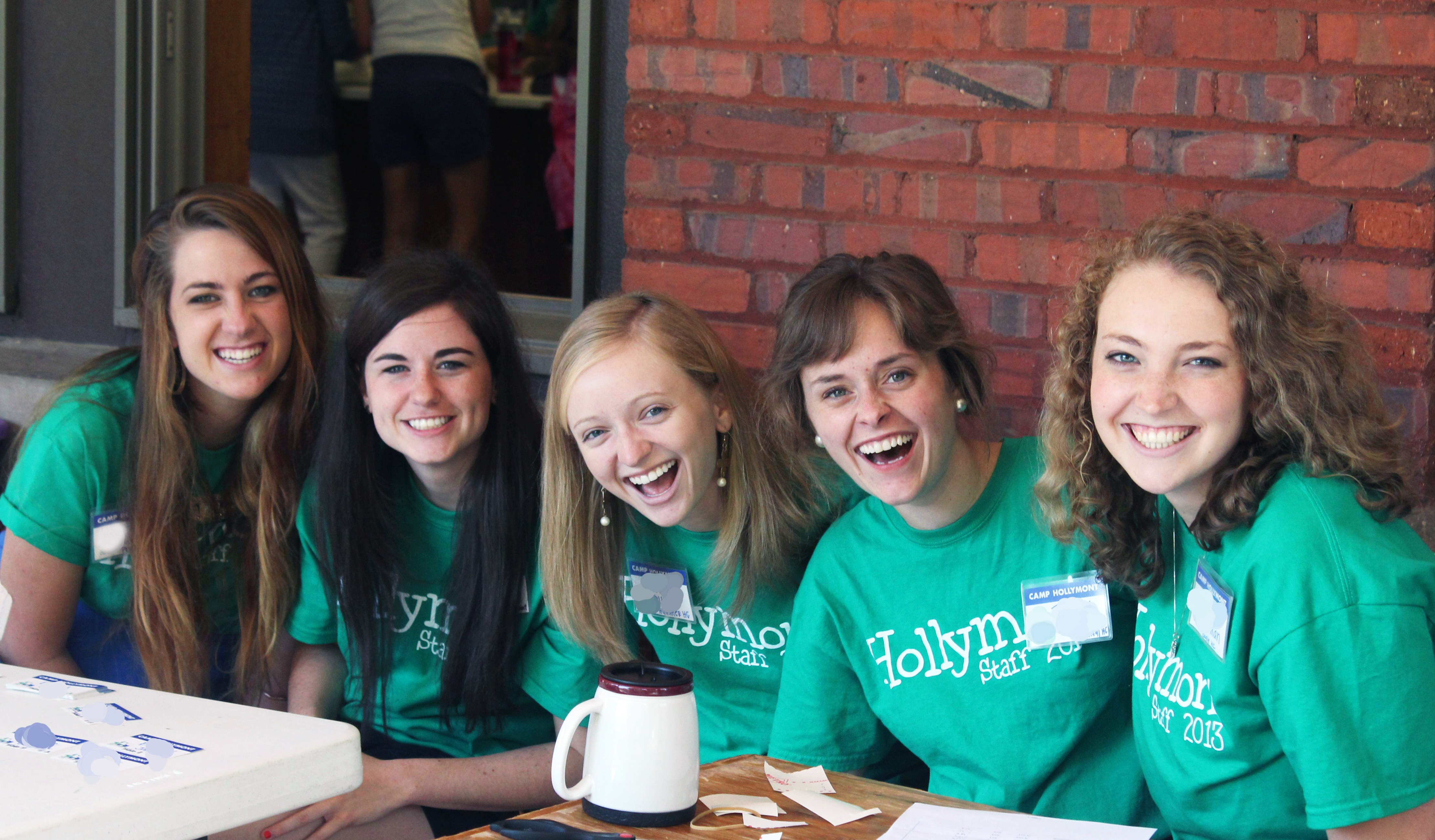 Staff FAQ
How many staff do you employ and where do they come from?
Hollymont employs approximately 50 counselors a summer. Counselors are required to have completed one year of college and the average age is 20. Assistant counselors must have completed their senior year of high school and be 18 years old.
We recruit Christian women from all over the country, primarily from leading colleges and universities. We strive to have a diverse population with regard to race and ethnicity.
How many campers attend camp and how long do they stay?
Our campers reside at camp for 1, 2, 3, or 4 weeks. Each session, approximately 120 girls from 6-15 years of age participate in our program.
Do we get time off?
All staff members are scheduled for one day and one night off in a two week session. In addition, staff have time off daily during one skill period. Inbetween camp sessions, staff get 24 hours off unless they choose to work for extra money.
If I don't have a car, does camp provide transportation on my day off?
No, camp does not provide transportation on your time off.  However, staff members above the age of 18 will find it very helpful to have a car at camp. Cars are parked in a designated area and can be used on your days/nights off.
No camper is allowed to ride in a staff member's car at any time. If you allow your fellow staff members to borrow your car or to ride with you in the car, you and your parents should be aware that Hollymont does not assume any liability for incidents that occur as a result of your generosity.
Does Hollymont make my travel arrangements?
Staff members will need to make their own travel arrangements. We can pick you up/drop you off at the Asheville Regional Airport. The airport is served by Continental, Delta ASA Connections, Northwest, and US Airways.
What are the living quarters like?
Counselors live in the lodge with the campers. There are "clusters" on each hall which consist of four adjacent rooms — a counselor's room and three camper rooms. Generally, a counselor is placed in the same room with a Co-Counselor, Assistant Counselor and/or a Counselor-in-Training (CIT).
Where are the bathrooms located?
You will be glad to know you don't have to walk through the woods with a flashlight in the middle of the night to locate the bathroom! There are bathrooms on the end of each hall consisting of multiple private stalls and private showers.
What is the food like?
Hollymont serves three well balanced meals a day – and they are scrumptious! In addition to the main meal being served at lunch and dinner, campers and staff always have access to a fabulous salad bar. Junk food anyone? Canteen is open after rest hour and it's open to campers and staff. You can choose one drink item and snack per day. The canteen is stocked with chips, ice cream, fruit juices, candy, and soft drinks. The cost of the treats is deducted from your paycheck. If you have a food allergy, we need to know in advance so we can prepare special meals or remove items that you may need to avoid.
Do staff members have access to laundry facilities?
There is a washer and dryer available to staff on each hall. They may be used as necessary.
What is my role in evening devotions?
In the evenings just prior to "lights out," counselors gather their campers for cluster devotions. We seek to give each camper positive direction for all walks of life, and our hope is for each girl to experience the joys of a Christ-centered life.
What is Morning Watch?
Hollymont's days begin with Morning Watch. Immediately after breakfast, we all gather in the chapel for enthusiastic singing and cluster-led devotions to give each camper and staff member a spiritual "jump-start" to their day.
Can you give me directions to camp?
Driving directions from various major city centers are available for download on this site.
Is there a dress code?
Your appearance will play a major role in the impression you make on parents. They know you will be the most important person in their child's life for the next few weeks and that your influence will extend on for years. Therefore it is essential that you are well groomed.
We ask that you refrain from wearing any body jewelry (nose rings, bellybutton rings, etc.) for the duration of your summer employment with Hollymont and that you do not get new piercings/tattoos while you are under contract with Hollymont. Please keep old tattoos out of sight.
We also ask that you do not drastically change your hair color during the summer.
What does a typical day for staff look like?
A day starts about 7:30 am and last until about 10:00 pm. Unlike any other job, camp can be 24 hours a day. It's the hardest job you'll ever love!
Will I help with multiple skills or dedicate my time to one?
Depending on your talents, we may need your expertise in more than one skill. If you have one specific skill you are especially talented in, we may need you focus in that area.
Why should I choose to work at Hollymont?
Hollymont provides an opportunity to spend your summer in a loving and energetic environment. You will make a difference in the lives of the campers and they will make a difference in yours. You will share your faith and grow in it, share your talents and explore new ones, improve your leadership skills, work as a team, and make new life-long friendships. YOU will have the TIME OF YOUR LIFE!!!