Welcome!
Making the transition from camper to CIT to staff member is a challenging yet rewarding process. The CIT program at Hollymont is designed to guide you through this process by teaching leadership skills, encouraging effective time management, developing strong work habits and strengthening your faith in God. All of this is done while having fun!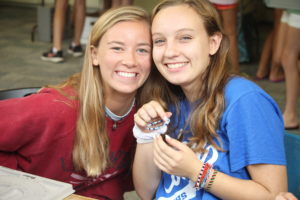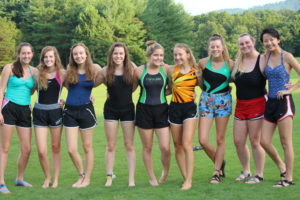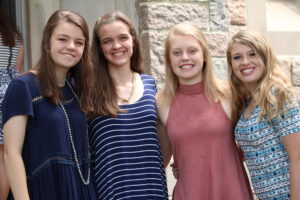 CIT Session Options
For first time applicants, there are three 13 day session choices to choose from:
A Session (Friday, June 8 – Friday, June 22) – $2635
B Session (Friday, June 29 – Friday, July 13) —$2635
C Session (Friday, July 13 – Friday, July 27) — $2635
In addition to the application, first time applicants must also submit 3 reference forms and have a personal interview with the Camp Director and/or CIT Leader.
For returning CIT's, in addition to the 13 day session choices, there is also a 20 day and 27 day option:
A + starter week (Friday, June 8 – Friday, June 29) —$3900
BC Session (Friday, June 29 – Friday, July 27) — $5270
CIT Program Overview
The CIT program at Hollymont seeks to develop Christ centered leaders who will build, sustain, and contribute to their families and communities. All of this is done through by helping to develop leadership skills necessary for success at camp and in life.
Specifically, CIT's will:
•Explore the building blocks of self (values, interests, temperament, life mission and meaningful goals, strengths and weaknesses)
•Be introduced to the art of self-discipline and organization and encouraged to practice the techniques involved.
•Learn the basics of team building (sharing ideas, setting goals, working with others, leveraging talents of the team and evaluating process)
•Explore the philosophy and practice of servant leadership
•Learn to communicate effectively through public speaking
•Be challenged to grow through creative tactics and taught to recognize, evaluate,and act on the risks involved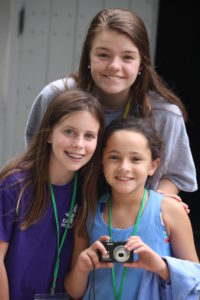 CIT Daily Schedule
8:15 am    Breakfast
9:00 am   Morning Watch
9:20 am   Cluster Clean Up
9:45 am   Bible Study and Personal Devotion
11:30 am  Lunch Set up
11:45 am   Lunch
12:30 pm  Leadership Development Training
1:45 pm    Work skill (Mail prep, etc.)
2:15 pm    Canteen/Mail delivery
2:45 pm    Rest Hour
3:50 pm   Assist in Skills
4:45 pm   Assist in Skills
5:25 pm  Dinner Set up
5:40 pm  Dinner
7:30 pm  Night Activity
9:00 pm  Cluster Devotions
9:30 pm  Lights Out – Hummingbirds
9:45 pm  Lights Out – Cardinals
10:15 pm Lights Out – Eagles
Counselor in Training FAQ
How many CIT's participate in a given session?
For each Hollymont session we have anywhere from 8-12 CIT's.  This smaller number allows us to focus on each individual in her desire to learn and grow through the program.
Many CIT's were Hollymont campers, but that is not a requirement.
How many campers attend camp and how long do they stay?
Our campers reside at camp for 1, 2, 3, or 4 weeks. Each session, approximately 140 girls from 6-15 years of age participate in our program.
Do we get time off?
CIT's get one night off together during the session as well as various breaks throughout the day.
If I am a driver, may I bring my car to camp?
CIT's are not permitted to bring a car to camp.  If they find themselves in circumstances requiring they drive themselves, the car will be parked in a Hollymont designated spot, and the keys will be kept locked up in the Directors office until the CIT is finished with her session.  Parental permission must be given for such circumstances.
During your stay as a CIT, you are not permitted to ride in the personal cars of staff.  CIT's are only allowed to ride in camp insured vehicles, with camp approved drivers.
Does Hollymont make my travel arrangements?
CIT members, along with their parents or guardians will need to make their own travel arrangements. We can pick you up/drop you off at the Asheville Regional Airport. The airport is served by Continental, Delta ASA Connections, Northwest, and US Airways.
What are the living quarters like?
CIT's live in the lodge with the campers. There are "clusters" on each hall which consist of four adjacent rooms — a counselor's room and three camper rooms. Generally, a CIT is placed in the same room with a Counselor and/or an Assistant Counselor.
Where are the bathrooms located?
You will be glad to know you don't have to walk through the woods with a flashlight in the middle of the night to locate the bathroom! There are bathrooms on the end of each hall consisting of multiple private stalls and private showers.
What is the food like?
Hollymont serves three well balanced meals a day – and they are scrumptious! In addition to the main meal being served at lunch and dinner, campers and staff always have access to a fabulous salad bar. Junk food anyone? Canteen is open after rest hour and it's open to campers and staff. You can choose one drink item and snack per day. The canteen is stocked with chips, ice cream, fruit juices, candy, and soft drinks. The cost of the treats is deducted from your camp account. If you have a food allergy, we need to know in advance so we can prepare special meals or remove items that you may need to avoid.
Do CIT's have access to laundry facilities?
There is a laundry room on the first floor of Lawrence and Anderson Hall.  CIT's may do laundry with the supervision of a counselor, central staff or program staff member as needed. Camp has laundry detergent available.  13 day CIT's should pack enough clothing for their entire stay.  CIT's staying for more than one session need only pack for a two week session. Laundry will be done in-between sessions for campers and CIT's.
What is my role in evening devotions?
In the evenings just prior to "lights out," counselors gather their campers for cluster devotions. We seek to give each camper positive direction for all walks of life, and our hope is for each girl to experience the joys of a Christ-centered life.  CIT's are to help counselors maintain an environment free of distraction so that everyone can participate and learn.  CIT's may be called on to help with an activity, lead a prayer or offer input to the topic at hand.
Second year CIT's will be given an opportunity to lead a cluster devotion under the direction of their CIT leader and cluster counselor.
What is Morning Watch?
Hollymont's days begin with Morning Watch. Immediately after breakfast, we all gather in the chapel for enthusiastic singing and cluster-led devotions to give each camper and staff member a spiritual "jump-start" to their day.
Can you give me directions to camp?
360 Asheville School Rd.
Asheville, NC 28806
You can get directions here.
Is there a dress code?
Your appearance will play a major role in the impression you make on parents. They know you will be one of the most important people in their child's life for the next few weeks and that your influence will extend on for years. Therefore it is essential that you are well groomed.
Clothes should not be too revealing or tight fitting. Spaghetti straps, strapless or see-through clothing is not permitted.  One piece bathing suits only for all water activities.
We ask that you refrain from wearing any body jewelry (nose rings, bellybutton rings, etc.) for the duration of your summer employment with Hollymont and that you do not get new piercings/tattoos while you are under contract with Hollymont. Please keep old tattoos out of sight.
We also ask that you do not drastically change your hair color during the summer.
If a CIT leader, Central Staff member or Director determines your clothing or accessories is not appropriate, you will be asked to change.